Welcome to Peebles Originals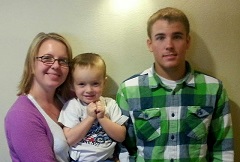 Mike Peebles has been producing crystal radios, tube radios, transistor radio kits, and informative instruction articles, since 1988. Mike has been building and tinkering with crystal radio, tube & transistor radios since the age of ten, which included AM and short wave radios as well.
Having lived through many years of the exciting evolution of radio, he has acquired a well-rounded understanding of the many changes in the field of radio. He has also had many years' experience in the field of electronics, which included the understanding of the technical aspects of radio and it's many advancements.
Mike writes the "Peebles Choice" column in the Xtal Set Society newsletter, which is also dedicated to crystal, tube, and transistor radio of the vintage nature. Supplying radio kits, parts, literature, instructions & information in the interest of hobby radio building and experimenting. We offer many fine books on this subject as well. So, let's all have fun in radio building!
Gage's First Birthday Present From Grandpa!

What's New At Peebles Originals
May 2020 No-Longer accepting orders.
Thank you so much for your devotions, and understandings!
September 2012 Kent Carmichael's Radio Sculpture project is new on my visitor's page section. Have a look!
April 2012 Nick's regenerative radio
using a single tv receiving type tube is featured in my visitors sets page. Schematic diagram is included.
February 2012 New Hiker's Radio Section
Welcome radio friends and hobbyists. This page is dedicated to a series of radios that were featured in radio hobbyist magazines on several continents. In the mid thirties they appeared in QST Magazine. The meaning of the Hiker's radios have changed over the years to include any tube receiver operated at low plate voltages.
February 2012 A new PDF file for radio construction beginners is now available as a download at my Info & Articles page. I compiled this PDF from the old time publications of the 1950's.
February 2012 New project radio shown in the visitors section. This time it is a regenerative receiver using two tubes direct from the UK.
January 2012 Mike digs in to his archive of his projects from the past and offers the plans for an AM Loose Coupler Radio in his Peebles Project Pages section.
The article starts … Hope you people like this Classic project. The Loose Coupler was used by the Navy, in the early days of radio as it was so selective and sensitive at the same time. A two-circuit tuner, as the loose coupler, is one of the only ways selectivity can be accomplished without sacrificing sensitivity.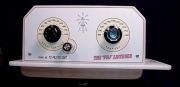 January 2012 New for 2012. Mike has burned the midnight oil to bring you his newest creation. This is a two section DX crystal radio, using the best techniques but with budget parts. Take a look and Mike thinks you will like this one. Most of the parts are available from Mike, with many common items found locally. So take a look at Mike Peebles PBJ Crystal Receiver in the Peebles Project Pages Section.
VANCOUVER, WASHINGTON, November 10, 2011 Mike Peebles at Peebles Originals announces his new kit – The Peebles Originals PO-386 IC Audio Amplifier. Through the magic of the integrated circuit, this little amplifier kit is simple to build but very useful.
Read more about this new offering on Mike's kits page.