Transformers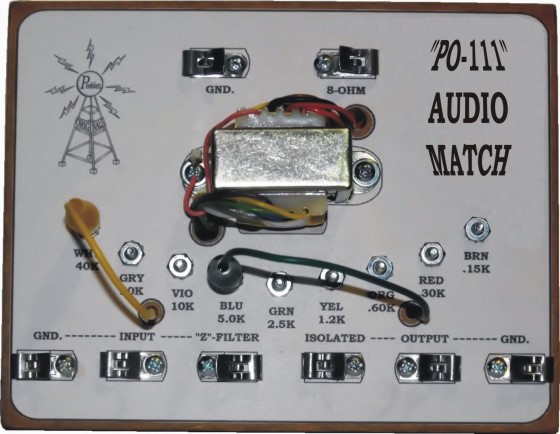 Transformer Audio Match
With out new Transformer, Audio-Matching board, you will be able to match the output of any crystal, tube or transistor set. This board will also match to any headphones or 8-ohm speaker also, making this Audio-Match one of the most versatile tools for any radio experimenter.
The "heart" of this Audio-Match board is the infamous Bogen T-725 Transformer. Input and output impedances, range from 40,000 ohms to 150 ohms., with the 8-ohm speaker output to separate terminals.
"Input: to the device also features: "Z" Filter to reduce distortion on high level signals.
"Output" also features an "isolated" terminal for DC isolation, where application may require such isolation. "Input" and "Output" impedance selections are independently acquired with convenient , and very positive "alligator-clip-leads". 8-ohm output is entirely independent and conveniently terminated with Fahnstock clips as all other terminations.
#PO-111, Transformer Audio Match, $37.50
Bogen T725 Transformer

This is the world famous crystal radio matching transformer. The primary has taps going up to 40k ohms. The secondary has an 8 ohm winding. The Bogen T725 is useful for improving crystal radio performance.

#72-725, $16.00
Related Items
Kits Crystal, Tube Radios & Antenna/Ground Kit
#PO-110 High Audio/Sensitive Headphones
#PO-301 Cats Whisker Detector Stand